ATA Recruitment
3ATA Recruitment Contractor of the Quarter
​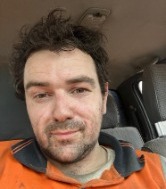 Building great relationships is the key with our contractors, and we like to recognise the fantastic service they provide to our clients across the UK.
​
To gain insight into the day-to-day life of working as a contractor alongside ATA Recruitment, we interviewed our Contractor of the Quarter, Adrian Borton.
​
​
1.How long have you been a contractor for?
3 Years.

2. Why did you decide to go contracting?
As previously working as a permanent employee, I decided I wanted to navigate my own terms of business that suited my personal aspirations and work life balance.

3. What is it you like about contracting?
I have the freedom to do work wherever and whenever I chose. Working for more than one business keeps me flexible to market changes and hard times.

4. What don't you like about contracting?
Nothing!

5. What is the service that you provide?
Electrical maintenance engineering, Project design and installation, break down support.

6. Why do you think it's a good idea for companies to use contractors?
It can be more cost effective than hiring a permanent employee as terms are much more negotiable and seasonal work becomes much easier to get support for. Businesses also have the guarantee that work will be to standard, as if the work causes damage, they can compensate their loses through the contractors insurance policy. People like me rarely say no to work. My name is on my business, so I go the extra mile to make sure it's right.

7.What benefits have your clients seen when using your services as a contractor?
I've installed safety systems, rectified long term faults and saved companies a lot of cost due to reduced down time. In some cases, I've helped them set up entire planned maintenance schedules, to prevent future problems occurring on old equipment with obsolete parts. I do jobs and tasks others are unable to do.

8. How easy is it to run your own business and be a contractor?
There is a lot to learn when you are starting out. However, after the first year, with a good accountant it becomes a very easy process to manage.

9. How long have you contracted via ATA Recruitment?
2 years on a variety of contracts for different clients.

10. What is your feedback on the service that ATA Recruitment provide?
"Hassan Choudhryis just about the best agent I've ever had and ATA Recruitment are lucky to have him. ATA Recruitment pay on time and they negotiate good contract terms."
​
Let us match you with contract opportunities that are right for you.
​
Find out how ATA Recruitment can help with the flex in your business, call 07827 295 376 or email contract@ata-recruitment.co.uk. Alternatively, complete the form below and we can talk through how you alleviate any potential interruption to supplying your customers.
​
​