We understand how important it is to find the right employee, and this is emphasised throughout our permanent recruitment process. Our team of specialist engineering recruiters are dedicated to assessing the best talent - We review skills, values and motivations to ensure the perfect match for your business.
​
Our unique search and selection processes are designed to make the recruitment process seamless for our clients, they include:
​
​

Searching – We don't just utilise the major job boards and talent pools, our biggest asset is our internal database. Working with ATA Recruitment provides you with access to thousands of engineers not available elsewhere. After identifying your requirements, we will use every channel to search and compile a long list of matches for your business.

Screening – Our processes are designed to meticulously match a candidates' skills and values to that of your business. We build genuine relationships with our candidates, and this level of understanding allows us to reduce risk during the recruitment process.

Interviews & on-boarding – We present you with a concise shortlist, typically consisting of 1-2 candidates for interview. Taking care of the arrangements, preparations and feedback saves you time and means that you can focus on your job while we focus on the recruitment.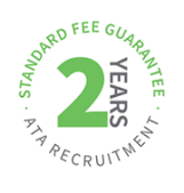 ​
​2 YEAR RECRUITMENT GUARANTEE
Most engineering recruitment agencies will only guarantee a placement for up to 8 weeks, but we're different. As well as a free replacement within 8 weeks, we will provide you with a half-price replacement if your employee leaves within 2 years.The ATA Recruitment standard free guarantee enables you to hire engineers with confidence in the knowledge that your recruitment partner has a vested interest in your success.
​
​
CONTACT US
To find out more about our permanent recruitment services, and to discuss how we can support your business, contact us using the form below and we'll be in touch within 24 hours.
​
​