ATA Recruitment
Transferable Skills - Why Recruitment Is For Everyone
​
A lot of people get in touch to ask what skills are required to be a successful Recruiter. From our experience, being a successful Recruitment Consultant can be pinned down to skills that are transferable from almost any industry or background. At ATA, we've come up with the key skills that make a great Recruiter:
​
Communication Skills
​Being able to effectively communicate is a great skill that lends itself to Recruitment. People from a Telesales or Customer Service role are challenged on their ability to manage people on a day-to-day basis which is no mean feat and can lead to a very successful Recruiter.
​
Attention to detail
Having an eye for detail goes hand in hand with Recruitment. Screening candidates means really getting to know them and a feel for their skills. Noticing when details are missing or knowing the questions to ask enables you to find those quality candidates time and time again.
​
Adaptable
Being a successful Recruiter means having the ability to react to changes quickly and efficiently. People who come from fast-paced roles tend to work great under pressure, and that ability is imperative in Recruitment.
​
Ambitious
At ATA, we have an Uncapped Commission scheme and clear route to progression. Are you somebody that is motivated by reward and strives to progress within a company? Then Recruitment could be for you! We have many routes to progression including people management, working autonomously as a Principal Consultant or Client Relationship Management to name a few. At ATA, we encourage development, and we are passionate about working with our employees to ensure they know exactly what they need to do to succeed.
​
Changing industries can be daunting. However, at ATA Recruitment we have a robust training programme and support network to ensure you succeed to the best of your ability. And, don't just take our word on it, take a look at some of our employees have to say...
​
"All the support and development during my time at ATA, has given me the tools I needed to get to that next level that I have always been eager to get to. I already have my eye on what I want to achieve next so I'm sure a few more years of hard work and I'll be able to get there."
Hayley Glover, Recruitment Consultant
​
"I'd recommend ATA as a business as I am proof that you can have a varied and structured career path, training is always available even 11 years into my career and it's a fun place to work. We are all competitive with a work hard and play hard mentality and the support for new talent is amazing and second to none. The flexibility to fit work around your personal life and your personal life around work allows you to have a healthy work-life balance."
Ajay Bhella, Business Development Manager
If you recognise the above skills and have been thinking about whether a career in Recruitment could be for you, get in touch with ATA Recruitment today to see if we have the role for you.
​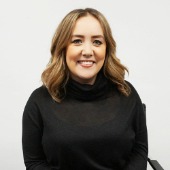 Find out more about a career with Ganymede today. Send me your CV or connect with me on LinkedIn today.
Telephone: 07920 595 229
Email: rachael.bailey-frost@atarecruitment.co.uk
​LinkedIn:Connect on LinkedIn
​
Find​ out more about a career with ATA Recruitment and see our current vacancies