ATA Recruitment
​
​Trainee to Specialist - One year in Recruitment
IN CONVERSATION WITH DANIEL SWAIN, RECRUITMENT SPECIALIST
​
Starting a new job can be daunting, especially when you are joining a completely new industry. However, from our experience, being a successful Recruitment Consultant can be pinned down to skills that are transferable from almost any industry or background. We sat down with Daniel Swain, who joined us just over a year ago in our Leicester office, to get his perspective on joining ATA Recruitment with no previous recruitment experience.
​
What did you do in your last job?
"I originally come from the hospitality sector, where I was a Bar Manager for many years. I sadly lost my job due to COVID, from there I worked as an Energy Specialist. It was great and taught me some amazing skills however, it wasn't giving the sense of achievement we all need in our jobs."
​
How did you hear about ATA Recruitment?
"I put my CV online and Rachael contacted me. I was at a point in my life where I didn't know where I wanted my career to go. She called me and explained what a career in recruitment would be like. ATA's culture and standards called out to me, and I thought I'd give a brand-new industry a go."
​
What was it about this opportunity that made you want to join the team?
"I wanted to find something that really matched my long-term goals. During the application process Rachael explained the day to day and what my starting months would be like. ​Yes, I had transferable skills however, I'd never worked in recruitment for so I was a little concerned. I came in for the interview and met the team and I was sold. The culture was exactly what I was looking for. A professional, fun working environment where everyone wants you to succeed."
​
How did you find the interview process?
"The process itself was streamline. I was given fair notice of interview dates and I was told what happens next. All my questions were picked up straight away and felt confident I knew what I was interviewing for. I had to create presentation of how I would achieve success in my first 90 days, which is something I've never done before. At first, I was nervous, however a quick phone call to Rachael for advice cleared up all my concerns. I felt confident."
​
How have you found your first 12 months?
"My first year with ATA has been amazing. I definitely made the right the choice. The training I received was second to none. I have received bundles of support throughout my time here, you are encouraged here to speak up here if you're struggling and the team will make sure you have all the tools and support you need. Everyone is incredibly Motivated. we enjoy what we do, and we do it well. Everyone wants you to be successful here. My career plan has been tailored to me. I know what I'm working towards and how I will achieve it. All my targets are realistic, and I've been promoted already! The rewards are fair here, meaning everyone is in for a chance, I already won an award and received a lovely glass plaque for my desk."
​
What is your favourite part of your job?
"The team, it's a great vibe here."
​
What do you want to achieve moving forward?
"We have regular 1 to 1's here and your goals are taken seriously. I've been promoted to Recruitment Specialist and the next step is Recruitment Consultant. "
​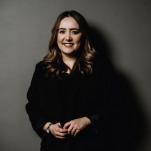 Find out more about a career with Ganymede today. Send me your CV or connect with me on LinkedIn today.
Telephone: 07920 595 229
Email: rachael.bailey-frost@atarecruitment.co.uk
​LinkedIn: Connect on LinkedIn
​
Find​ out more about a career with ATA Recruitment and see our current vacancies
​