Rachael Bailey-Frost, Talent Manager
Why start a career in Recruitment?
​
I speak to a lot of people daily who are not sure if a role in recruitment is right for them. Most people don't know that the sector has progressed enormously in recent times; Consultancies have recognised the need to conduct good business to create solid relationships with both clients and candidates and the importance of providing long-lasting, rewarding careers for their own employees.
​
When I joined the recruitment industry, I had my own concerns. Although I had done internal recruitment in a retail setting, I was nervous about stepping into the unknown. I had a few friends who worked in recruitment and was aware of the highs and lows that a Recruitment Consultant can experience, particularly in their first twelve months in post. That said, through my research I felt as though the positives outweighed the negatives and despite experiencing some lows, I still feel this way now.
​
A Recruitment Consultant learns – quickly – how to work under pressure; you are given targets and with support, you are expected to hit them. Yes, it can sometimes mean that you have a stressful day; it is unlikely that everything will go your way all the time, but it also means you can easily measure your performance. It is clear which areas you are performing well in and which you need to improve on/invest more time in.
​
This transparency is not something that a lot of careers offer, and it gives you the opportunity to pinpoint those areas of development and work on them yourself – and with your Manager/Team – meaning your job performance will visibly improve. As your performance improves you will be able to progress at a speed that just isn't available in a lot of other sectors, as any reputable recruitment business will have a clear route of progression and development available for you to follow.
​
A career in recruitment can also offer a lot of stability. Within ATA Recruitment I have many colleagues that have been with us for over 5, 10, 15, even 20 years. While the economy has suffered at different points over the years and their remit may have changed to reflect this, ultimately the need to hire has never gone away. Once you have built positive relationships with candidates and clients, they will continue to use your services throughout their careers, ultimately strengthening your position within the marketplace and offering you continued success throughout yours.
​
Working in recruitment has benefitted me in many ways. I have become a lot more confident in both my professional and personal life; having to speak to and work with such a variety of people means that I am now comfortable in pretty much any social situation. This surge in confidence in turn made me better at my job, meaning that I was performing at a higher standard and ultimately being more successful which meant that - unlike in other careers - I was being rewarded for my success. The recruitment industry (and the sales industry as a whole) is extremely meritocratic. If you perform well, you will benefit personally. I had had jobs before in which I felt like I was working harder than some of the people around me but earning the same salary. This is not the case in a recruitment career - those willing to push themselves the extra mile will reap the rewards of this.
​
Please feel free to get in touch today for an open and honest conversation, I would be more than happy to discuss any concerns you may have, listen to your career goals and aspirations and discuss whether a recruitment career would be right for you. ATA Recruitment is actively recruiting now. Alongside a great basic salary, we have a market-leading commission scheme and many benefits including an agile working policy.
​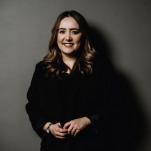 Find out more about a career with ATA Recruitment today. Send me your CV or connect with me on LinkedIn today.
Telephone: 07920 595 229
Email: rachael.bailey-frost@ata-recruitment.co.uk
​LinkedIn: Connect on LinkedIn
​​​
Find​ out more about a career with ATA Recruitment and see our current vacancies
​